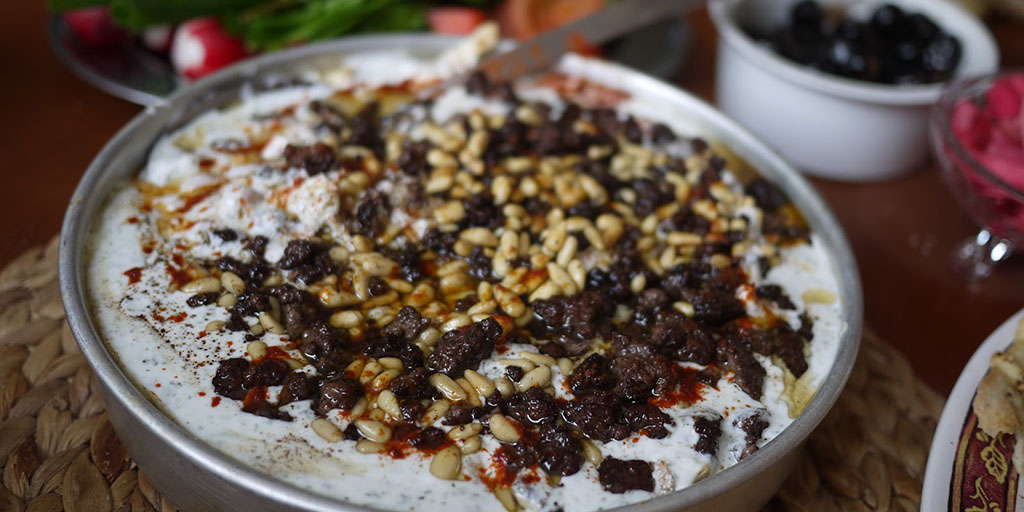 Fatteh / Chicken with Yoghurt and Chickpeas
Serves 4
---
Ingredients
1 medium chicken (about 1.5 kg)
2 Adonis cinnamon sticks
1 tbsp coarse sea salt
400g net weight ready-cooked chickpeas (from a tin or glass jar)
1 large pita bread, opened and toasted
40g unsalted butter
60g pine nuts
2 garlic cloves, peeled and crushed (or ¼ tsp of Adonis garlic powder)
900g plain full fat yoghurt
Cooking instructions
Put the chicken in a sauce pan. Add 1.2 liters water and place over medium heat. As the water is about to boil, skim the surface clean. Add the Adonis cinnamon sticks and salt. Cover the pan and boil gently for 45 minutes to 1 hour, or until the chicken is cooked through.
Rinse the chickpeas well. Drain and add to the chicken. Set aside.
Melt the butter in a frying pan and saute the pine nuts, stirring constantly until golden brown. Remove with a slotted spoon onto a double layer of kitchen paper.
Mix the crushed garlic with the yoghurt. Add salt to taste and set aside. Break the toasted bread into bite-sized pieces and spread over the bottom of a serving dish.
Remove the chicken from the stock. Take the meat off the bone, discarding the skin, and shred into bite-sized pieces. Spread over the bread. Remove the chickpeas with a slotted spoon and spread over the chicken. Sprinkle with a little stock and spoon the yoghurt all over. Garnish with the sauteed pine nuts. Serve immediately.
---
Learn More About Our Products