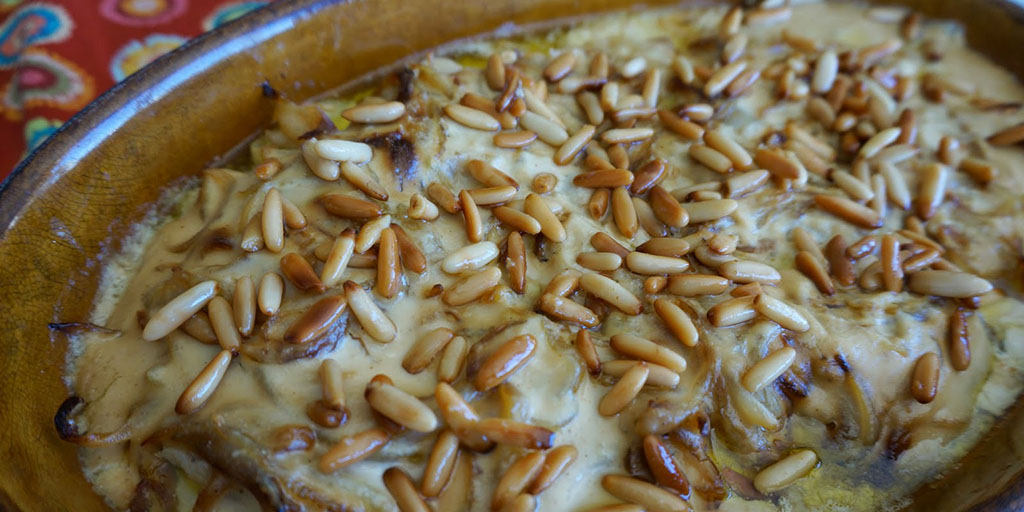 Tajensamak / Fish in Tahini sauce
Serves 4-6
---
Ingredients
125 ml tahini
2 garlic cloves, crushed (or ¼ tsp of Adonis Garlic Powder)
Juice of 1 half lemons, or to taste
Sea salt
4 tbsp extra virgin olive oil
450 g white fish filet (sea bass, red sea bream or similar), cut in 6 pieces
3 medium onions, thinly sliced
Half tsp Adonis Cumin Ground
Sea salt
Finely ground Adonis White Pepper Ground
2 tbsp pine nuts, toasted
Cooking instructions
Mix the tahini with the garlic in a medium bowl. Slowly add the lemon juice, stirring all the time. At first, you will notice the tahini becoming quite thick despite the fact that you are adding liquid but do not worry; it will thin out as you add more liquid. Gradually add 200 ml water, still stirring, until you have a thin creamy sauce. Set aside point.
Put one table spoon of the olive oil in a non-stick frying pan and place over medium high heat. When the oil is hot, slide in the fish pieces, skin side down and cook for about 2 minutes, until the skin is crisp and golden. Turn the fish over and cook for another minute or so, until it is just done. Remove onto a plate.
Add the remaining oil to the pan. Add the onions and cook, stirring occasionally, until soft and vary lightly golden. Add the tahini sauce. Season with the Adonis Cumin and, Adonis White Pepper Ground and salt to taste. Mix well. Then, let bubble for 3 - 4 minutes, stirring every now and then, until the tahini just start to separate and you see a little oil coming to the surface.
Take the sauce of the heat and slide the fish in. Scatter the pine nuts all over. Gently shake the pan back and forth to coat the fish with the sauce. Taste and adjust the seasoning if necessary. Serve warm or at room temperature.
---
Learn More About Our Products