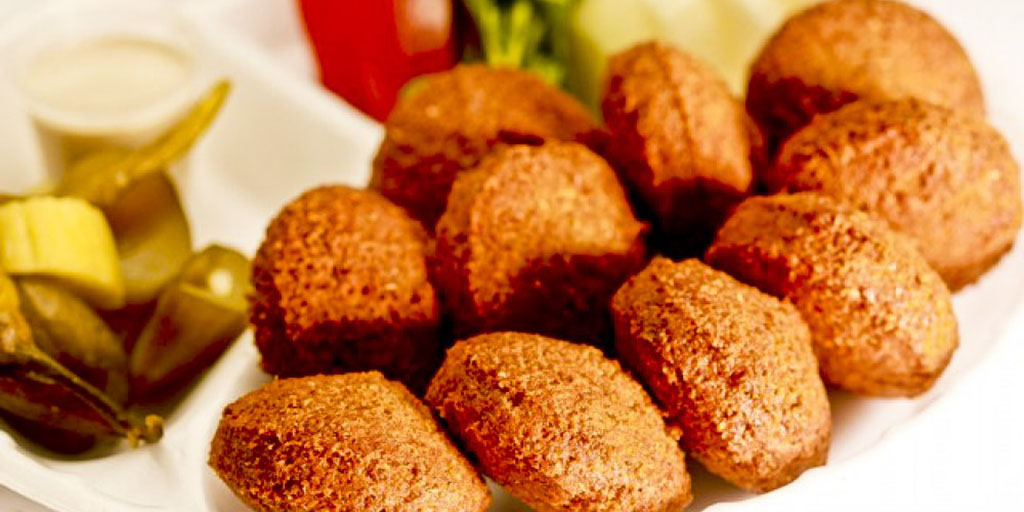 Falafel
Makes 3 sandwic
---
Ingredients
1 Box Adonis Falafel Mix
150 ml Tahini
Juice of 1 ½ lemons, or to taste
1 garlic cloves, peeled and crushed
Few sprigs of flat-leaf parsley, most of the stalks discarded, finely chopped
Sea salt
3x22 cm round pita breads
2 medium tomatoes, halved and thinly sliced
Pickled cucumbers, quartered length ways
Pickled sweet chilies, halved length ways
Pickled turnips, thinly sliced
Cooking instructions
Mix the content of the Adonis Falafel Mix with 200 ml of cold water. Stir to make viscid dough of falafel mixture. You can add little water to adjust the viscosity of the dough especially if you let the mixture for a little bit to prepare other stuffs.
Put the tahini in a mixing bowl. Gradually, and alternately, the lemon juice and 100 ml water, stirring constantly. The tahini will first thicken despite the fact that you are adding liquid. Do not worry, it will soon start to dilute again. Taste the dip before you use up on the lemon juice. This way you can adjust the tartness to your liking. If you use less lemon juice, make up for the loss of liquid by adding more water. Stir until the sauce has the consistency of double cream. Add the crushed garlic and chopped parsley point season with salt to taste and mix well.
Get the falafel mixture, pinch a handful and shape between the palms of your hands into a fat round cake with papering sides, about 5 cm in diameter. Place on a plate and continue making the cakes until you have finished the mixture. You should end up with about 16 falafels, depending on how fat you have made them. You can also use a falafel mould, in which case you will drop the falafel straight from the mould into the oil as you make each.
Heat enough vegetable oil in a large frying pan to deep fry the falafels and when the oil is hot - test with a piece of bread, if the oil bubbles around it, it is ready- drop in as many falafel as will fit comfortably in the pan. Fry until golden brown, about 2 minutes each side. Remove with a slotted spoon onto several layers of kitchen paper to drain off the excess oil. Lay another double layer of paper towels on top and pat the falafels to absorb as much oil as you can. Continue frying and draining until all the falafels are done.
Open up one pita bread at the seam and lay one layer over the other, rough side up. Line for falafels down the middle crushing them open a little, drizzle as much tahini as you like over the falafels, being careful not to use too much, as it will drop out of the sandwich. Garnish with diced tomatoes, pickled cucumbers, sweet chili peppers and turnips to taste. Roll tightly and wrap the bottom half with a napkin. Serve immediately.
---
Learn More About Our Products