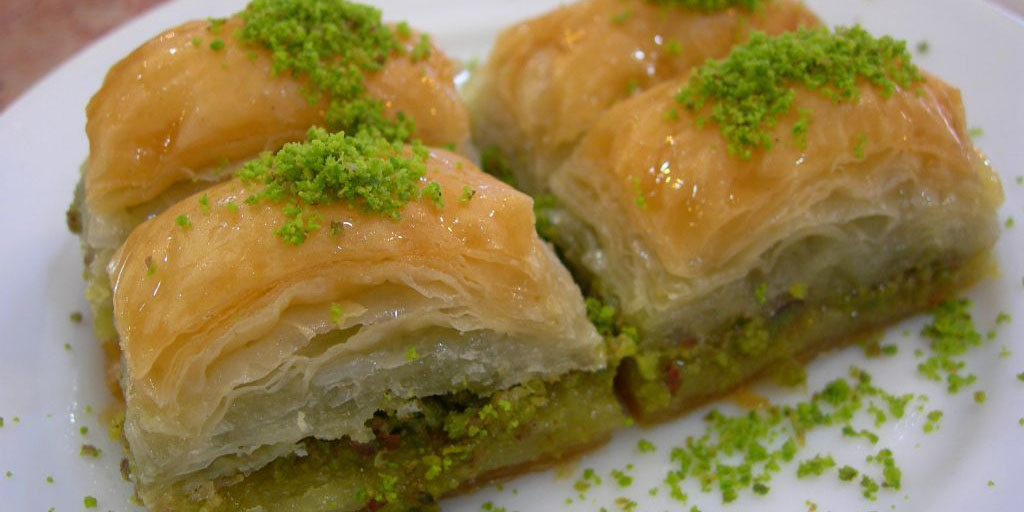 Baklava / Baklawa
Serves 6
---
Ingredients
175g sugar
75 ml water
½ tsp lemon juice
½ tbsp rose water
½ tbsp orange blossom water
200 g walnuts
100 g caster sugar
¾ tsp Adonis Cinnamon Ground
1 tbsp orange blossom water
12 sheets of filo pastry measuring 18x32 cm
75g unsalted butter, melted plus extra to grease baking dish
Cooking instructions
Put the sugar, water and lemon juice in a saucepan. Place over medium heat and bring to a boil, stirring occasionally. Let it boil for 3 minutes. Add the rose and orange blossom water. Boil for a few seconds more and take off the heat. Let it cool.
Preheat the oven to 200 degree.
Put the walnuts (or any other nut of your choice) in the food processor and process until medium fine. Transfer to a mixing bowl. Add the sugar, Adonis Cinnamon Ground, orange blossom and rose water. Mix well.
Grease a medium baking dish measuring about 18x32x3 cm with a little butter. Spread one sheet of filo pastry on the bottom of the baking dish-keep the other sheets covered with cling film and a kitchen towel so that they don't dry up. Brush the filo with melted butter, lay another sheet, brush with more melted butter and lay another 4 sheets, brushing each with butter until you have 6 layers of filo pastry.
Spread the nut filling evenly over the filo and cover with 6 more layers of filo, making sure you brush each with melted butter. Pour any leftover butter over the pastry and cut into 5 cm diamonds; or cut into 5*2 cm rectangles.
Bake in the preheated oven for 15-20 minutes, or until crisp and golden brown. Take out of the oven. Let it sit for a minute or so, then pour the cooled syrup all over the pastry. Serve at room temperature.
---
Learn More About Our Products