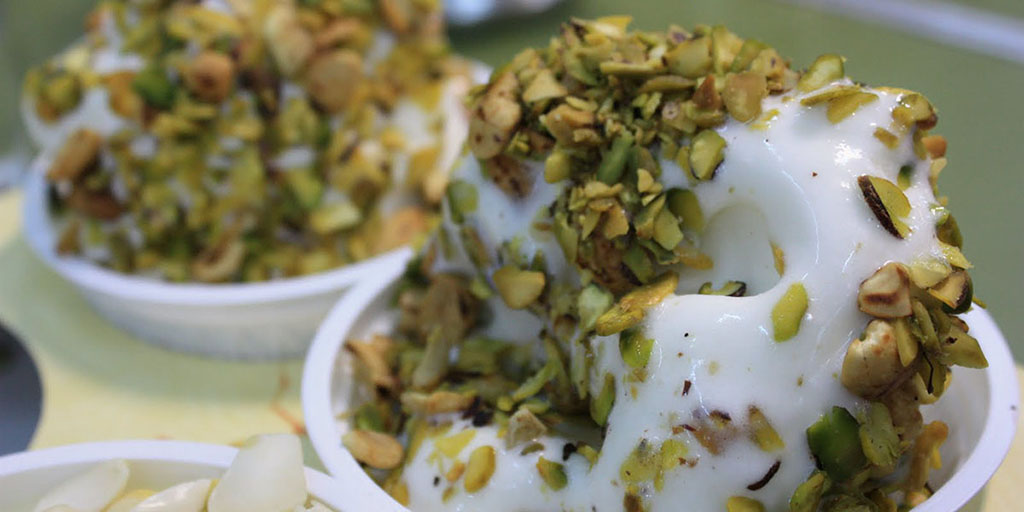 Buza / Arabic Ice-cream
Makes about 1.5
---
Ingredients
1 liter whole milk
½ tsp Adonis mastic
1tbsp Adonis plain salep
150 g golden caster sugar
300 ml cream fraiche
2 tbsp rose water
2 tbsp finely chopped pistachios for garnish
Cooking instructions
Put milk in a saucepan and place over medium heat. Bring to a boil, then strain the milk and let it cool until warm.
Add a little of the warm milk to the ground Adonis mastic. Mix well and set aside.
Pour the warm milk in a clean saucepan. Place over medium-high heat and bring to a boil, stirring constantly. Reduce the heat to low and add the Adonis plain salep, little by little. If you add it too quickly it will not dissolve properly and will form lumps. Keep stirring over the heat for about 8-10 minutes. Then, add the sugar and stir for another 3 minutes.
Remove from the heat. Transfer to a freezer-proof bowl. Let cool a little. Then add the diluted mastic, cream and rose water. Mix well and let it cool. Freeze following the manufacturer's instructions of your ice-cream machine. Serve garnished with the chopped pistachio nuts.
---
Learn More About Our Products