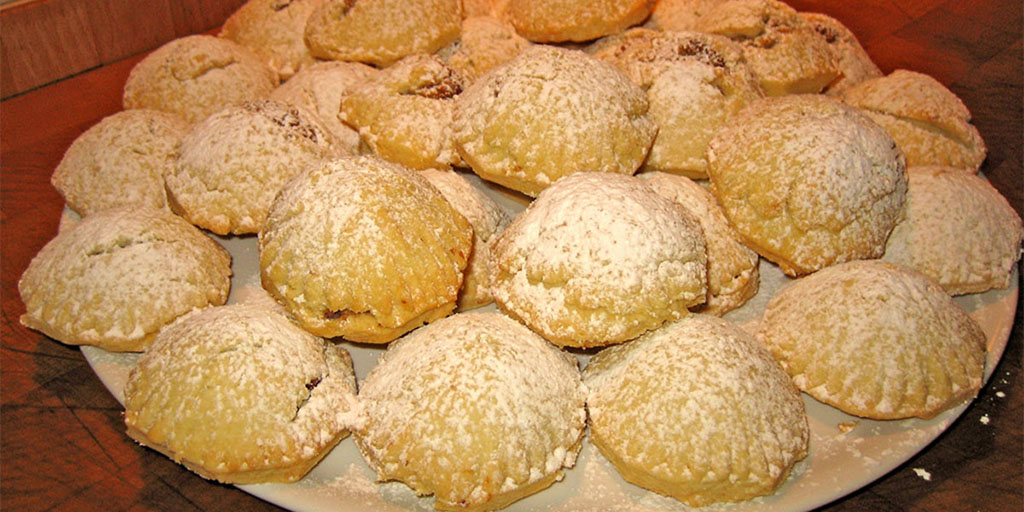 Kaak el Eid / Party Cookies
Makes about 50
---
Ingredients
250 g fine semolina
¼ tsp finely ground Adonis mastic
1/8 tsp Adonis Nutmeg Ground
Scant ¼ tsp Adonis Mahlab Ground
1/8 tsp fast action or easy bake yeast
100g unsalted butter, softened
75 g golden caster sugar
100 ml whole milk
Cooking instructions
Mix the semolina, Adonis mastic, Adonis nutmeg, Adonis mahlab and yeast into a mixing bowl. Add the softened butter and, with the tips of your fingers, rub together until the fat is fully incorporated.
Mix the sugar and milk in a small jug until the sugar is completely dissolved.
Add the sweetened milk to the semolina mixture and knead until you have a smooth and malleable pastry. Cover with a wet, although not dripping, kitchen towel and let it rest for 1 ½ hours.
Preheat the oven to 120 C°.
Pinch off a small piece of semolina pastry and shape into a ball the size of a small walnut. Roll it into a thin sausage about 1.5 cm thick and 11 cm long. Bring both ends together and slightly press one on top of the other to make a ring, about 5 cm in diameter. Lift delicately onto a non-stick baking tray or line on a silicone pastry mat or parchment paper. Continue making the cookies until you have finished the pastry. You should end up with about 50.
Bake in the preheated oven for 12-15 minutes, or until lightly golden and crisp. Leave to cool before serving or packing in an airtight container, where they will keep for about two weeks stored in a cool place.
---
Learn More About Our Products